Did you know that the National Fire Protection Association reported nearly 357,000 house structures to be damaged in the year 2017 as a result of fire?
This led to about $7.7 billion in property damage.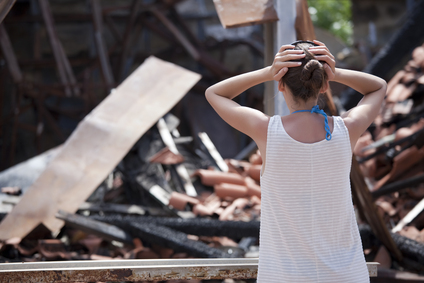 That's how serious this problem really is.
And the sour truth is, you may find a really hard time selling your fire damaged home.
So, what's the solution?
If you are wondering how to sell your fire-damaged Jacksonville property, then it's time we helped you out.
In this blog post, we will be discussing some tips that you need to keep in mind prior to selling your fire-damaged home.
Well, then! Let's get started straight away.
Top Tips to Sell Your Fire-Damaged Property
Listed below are the points we will be discussing:
Get in Touch with Your Insurance Agent
Restore Your Home to its Original State
Hang onto Every Documentation Piece
Answer Any Questions that Your Buyers May Have
Cooperate with Your Insurance Company
Let's take a look at each of them one at a time.
Get in Touch with Your Insurance Agent
If your home has been damaged by fire majorly, then the first thing you need to do is to get in touch with your insurance agent handling your homeowner's policy.
Once you get in touch with the company, you need to share every single piece of detail and let them know what took place. After you share the details, they will be carrying out their own investigation and looking into the cause.
Restore Your Home to its Original State
Selling a fire damaged home is super-hard.
Chances are that the buyers won't be willing to pay the same price as they would for the others in your neighbourhood.
If you want your fire-damaged home to be sold at a higher price, you need to restore it to its original state.
But the thing is, fire cleanup is a lot costly. In addition, exposure to soot may cause respiratory problems as well as different medical issues.
Prolonged smoke damage usually stains ceilings and walls, leaves odors behind in crawl spaces as well as impacts the roof, attic, ventilation, heating, HVAC system.
Fire remediation may lead to mold removal as well as water damage restoration, as a result of water that's used for fighting the fire.
You may expect the small fire costs to range, on an average, between $3,000 and $5,000. However, adding in roof or kitchen cabinet repairs as well as replacements may raise the price beyond $50,000.
But wait!
The thing is, most of the costs may be covered by either replacement value or cash value insurance. Hence, you should have a brief understanding of what the homeowners' insurance covers.
Cooperate with Your Insurance Company
Within the insurance companies, usually fire-damaged claims are given the highest priority. Once you get in touch with your insurance company, an adjuster's out for inspecting the property in just a few days.
However, the one thing you should never even fail at is missing out on company's calls or mails.
You should be available for all the meetings as well discussions. Keep your documents ready and provide them with anything that they need to help you out throughout the process.
Hang onto Every Documentation Piece
Prior to selling your Jacksonville property to a buyer, a good practice is to let him/her know about any prior fire damage. And that's a necessity in some states, according to disclosure laws.
Chances are that your potential buyers may consult with your neighbours, prior to sending you an offer and finalizing the deal.
After you have restored your house, it's crucial to hang onto every piece of documentation. Maybe, your potential buyers may ask for it.
Hence, you need to have it all ready.
Your potential buyers may even have some questions and you need to make sure that you are able to answer every single one of them, which brings us to our next point.
Answer Any Question Your Potential Buyers May Have
If your home is fire-damaged, your potential buyers may want to know the cause behind it.
They would love to know the steps that you took in order to deal with the problem. Some of the leading causes of home fires are:
Electrical Distribution & Lightning Equipment
Heating Equipment
Intentional Causes
Fan or Air Conditioner
Smoking Materials
Candles
Playing with a Heat Source
You need to back up your answers with the home restoration document. And you need to have all of it ready while showing your buyers around.
We'd Like to Help
At BuyingJaxHomes, we have been buying homes in Jacksonville, Florida for quite some time with 100% satisfaction rate.
And yes, don't worry if your home is fire-damaged. We are here to help you out.
All you need to do is get in touch with us and we'll be at your assistance in no time.