Some municipal regulations are super-complicated. I understand.
And frankly, zoning is one of them, as it can get confusing real quick.
Irrespective of how complicated and boring it actually is, people need to familiarize themselves with the concept of zoning, as these sets of codes have a major impact on the structure of our lives.
In this blog post, we'll take a brief look at what zoning is and some of its most common classifications you should know.
Let's begin.
What's Zoning?
Zoning is local or municipal regulations or laws dictating how real properties in a specific geographic area can and cannot be used. Zoning laws can limit or restrict industrial or commercial land use for the purpose of preventing manufacturing, oil, or different kinds of businesses in residential neighborhoods. These activities can tamper with people's lives in a residential neighborhood, which is why zoning laws have been put in place.
Zoning symbols and categories vary among communities. Some of the most common zoning classifications are:
Residential Zoning
Residential Zoning & Home-Based Businesses
Commercial Zoning
Industrial Zoning
Rural Zoning
Agricultural Zoning
Historic Zoning
Combination Zoning
Aesthetic Zoning
Let's have a look at each of these types.
Residential Zoning
These zoning laws include:
Suburban Homesteads (SH)
Single Family Residences (SFR)
Multiple designations, including apartments, homes, trailer parks, condominiums, duplexes
Some issues covered are the number of structures that can be allowed on a specific property or whether it's allowed to place mobile homes on a property.
Residential Zoning & Home-Based Businesses
Here's what included for home-based businesses:
Noise issues
Hours of operations
Business nature
Signage
Whether there are business or employees invitees
Delivery Concerns
Parking Issue
Commercial Zoning
There are several commercial zoning categories and are subject to the business use on your property plus the number of business patrons.
Examples include:
Shopping centers
Office buildings
Hotels
Nightclubs
Warehouses
Vacant land with potential for development into the above-mentioned types of buildings
There are multiple restrictions, which is why I'd advise you to get in touch with us.
Industrial Zoning
Depending on the type of business, the industrial zoning laws may vary.
Some environmental factors include noise issues, storage problems, etc. Various storage facilities and manufacturing plants have industrial zoning. Airports can have their designation as well.
This zoning depends on the floor to area ratio plus the building height. In addition to this, the set-back requirements for industrial-zoned properties are higher.
Rural Zoning
This zoning is used for ranches or farms. In different parts of the country, rural zoning includes the residences zoned for allowing cattle or horses.
Agricultural Zoning
Communities that are really concerned with respect to maintaining the agricultural industry's economic viability use agricultural zoning. These zoning laws will restrict or limit the development's density. It will even restrict a land's non-farm uses.
This zoning plays a major part in protecting the farming communities from getting fragmented as a result of residential development. And in some states, it's mandatory for federal voluntary incentives programs, programs providing additional tax abatements, and subsidy programs.
Historic Zoning
Buildings and homes with age more than 50 years are a part of historic zones. Various zoning regulations are put in place to prevent a change in structure. However, some allowances like restoration or repair are a part of the historic zoning laws as well. Buildings in such areas will qualify for the government tax incentives.
Combination Zoning
Different zoning designations are combined and implemented together in different cases. So, it depends.
Aesthetic Zoning
With the ever-increasing popularity of aesthetic zoning, especially in upscale communities, it covers:
Landscaping
Color Schemes
Fences
Mailboxes
Decks
Satellite Dishes
Material Types
Solar Panels
These zoning codes require building plans to be submitted plus approved by the architectural review committee.
Let Us Help!!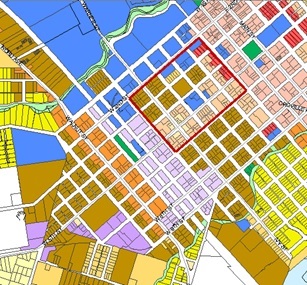 Facing zoning issues? Let me tell you not to worry, as these issues are really common and can arise anytime. They may definitely restrict or limit what you can do and what you can't.
That's exactly what we'd like to help you with.
We are the Jacksonville real estate market experts and know all the ins and outs of zoning.
We know what you can do. We know what you can't. We know everything there is, which is why if there's an issue you are facing, we'd love nothing more than helping you out.
Got zoning problems?
What are you waiting for? Don't wait around! Contact us TODAY!